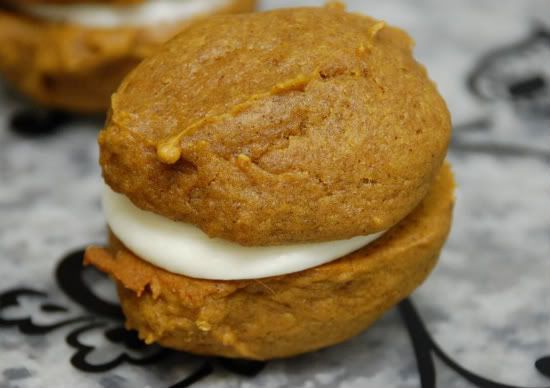 PUMPKIN WHOOPIE PIES with MAPLE-MARSHMALLOW FILLING
1 c. powdered sugar, sifted
1 c. (2 sticks) unsalted butter, room temperature
1 7-oz jar marshmallow creme
2 t. maple extract
CAKE
3 c. all purpose flour
2 t. ground cinnamon
1-1/2 t. baking powder
1-1/2 t. baking soda
3/4 t. salt
3/4 t. ground nutmeg
3/4 t. ground cloves
6 T. unsalted butter, room temperature
3/4 c. (packed) golden brown sugar
3/4 c. sugar
1/2 c. vegetable oil
3 large eggs
1 15-oz can pure pumpkin
1/2 c. milk
Nonstick vegetable oil spray
PREPARATION
FILLING
(1) Using electric mixer, beat sugar and butter in large bowl until fluffy, about 2 minutes. Add marshmallow creme and maple extract; beat until blended and smooth. DO AHEAD Can be made 2 hours ahead. Let stand at room temperature.
CAKE
(1) Sift first 7 ingredients into large bowl. Using electric mixer, beat butter and both sugars in another large bowl until blended. Gradually beat in oil. Add eggs 1 at a time, beating to blend between additions. Beat in pumpkin. Add dry ingredients in 2 additions alternately with milk in 1 addition, beating to blend between additions and occasionally scraping down sides of bowl. Cover and chill batter 1 hour.
(2) Arrange 1 rack in bottom third of oven and 1 rack in top third of oven; preheat to 350°F. Line 2 baking sheets with parchment; spray lightly with nonstick spray. Spoon batter onto baking sheet to form cakes (~3 T. per pie to make ~23 pies), spacing apart. Let stand 10 minutes.
(3) Bake cakes until tester inserted into centers comes out clean, about 20 minutes, rotating sheets halfway through baking. Cool cakes completely on baking sheets on rack. Using metal spatula, remove cakes from parchment.
(4) Line cooled baking sheets with clean parchment; spray with nonstick spray, and repeat baking with remaining batter.
(5) Spoon about 2 T. filling on flat side of 1 cake. Top with another cake, flat side down. Repeat with remaining cakes and filling. DO AHEAD Can be made 8 hours ahead. Store in single layer in airtight container at room temperature.